I found a few 70's corporate domelights with side maplights. Installed one. The map lights get real hot, so I may replace them with LED lamps.
You can see the new headliner above.

Below shows the spare cover, which was originally very nasty looking, but covered up nice with matching seat vinyl and home made pinch-welt trim.
Instead of using NOS type cloth wrapped welt, I made some vinyl welting in a color that matched the seats.
I wanted to hide the stereo, of course, and the glovebox was my one choice. I pulled out the cardboard liner, drilled out the rivets, and used it as a base pattern for a spot welded sheet metal insert. I installed a 12v socket (green arrow) to power external music players. This stereo is a very ugly example of an MP3 encodded CD capable unit. It also has a front mounted input (orange arrow). The bottom well is deeper than the stock box and holds eight or nine cd cases. I don't carry too many CDs these days, though, regular or mp3 encoded. The several family iPods hold all the music we want to hear.
3 point seatbelt anchor plates.
The car only had lap seatbelts when I got it, I found a place to install anchors for three point belts. The B pillar has slots that look like they are made for anchor plates.
Top anchor plate welded in.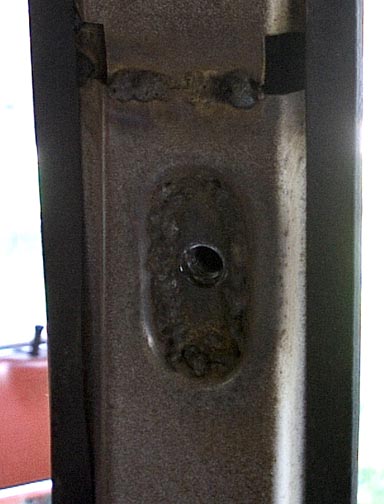 Bottom plate. This is what the retractor bolts too.