Jaguar Flip-Cap Installation
I got around to installing the jag flip-cap last month before the car was sent off to be painted, just as planned (sometime last year).
Here are some pics. The installation was simple enough and turned out, I think, pretty good.
Below is the original photoshop visual planning aid, keep scrolling down.

Finished and ready for paint. Pretty close to the above pretend image.
How to do it:
Step One: create a cardboard pattern by tracing around the flip-cap, and cut it out.
Step Two: transfer pattern to sheet metal.
Step Three: realize you have tools that can cut a stock gas cap cup off a junkyard car in two minutes and that it's going to take half a day to make one from scratch:
There was only one XJ6 jag at the yard this time. The yard boss wanted to charge me $125.00 to cut these out, each.
I asked him what school of crazy he went to, and offered him "$10.00 for both, and I'll be back with them in five minutes."
He said "No way. The liability... the liability..."
I cut them out anyway (two minutes each), found some cool "V8" emblems on a 62 Fairlane on the way back,
and a 60+ inch aluminum driveshaft out of a crown vic cop car hidden in the Fairlane's trunk. A good day.
At the pay shack, the guy just shook his head, rolled his eyes, and said "Jeeeeezusss. Just take 'em." So in the end, I got out of there for $50.00.
Here it is tacked in place.
I keep trying to take pictures along the way on these projects, but never remember while I'm working.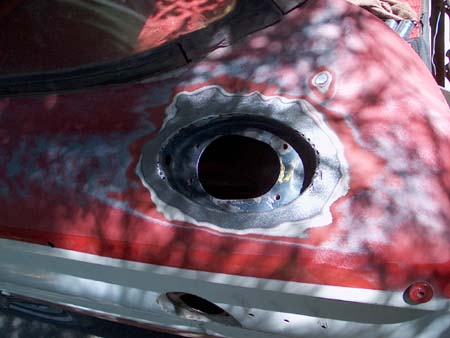 A little closer, after the tacks have been ground.
Had to fill in the old filler too, of course.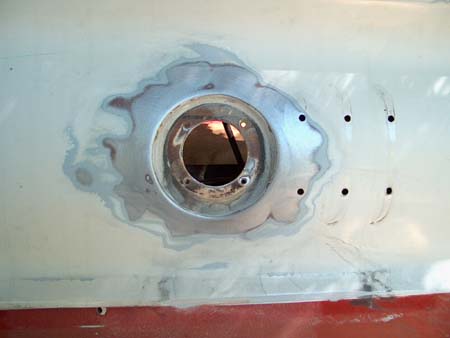 Viola! Ready to send to the painter.
There are two types of XJ6 flip caps.
The tall one,
and the short one.
I think I'll be using the tall cap.
Update
The tall cap has a different pivot geometry, and hits the bodywork, so it's the short cap.
Pics after paint:
Cap open
More pics of the gas tank filler pipe and tank mods coming soon.